About the Rainbow Reading Programme
The Rainbow Reading Programme is designed to present students with a variety of topics, authors, styles and illustrations to make reading interesting while skills are improved. Each story or article has been carefully selected because of its educational value and attraction to a wide range of students with varying needs and interests.
Books are levelled, colour-coded, and are accompanied by  specially recorded audio available on a magical reading pen, CDs or as MP3 files to provide support and a good model for readers. A comprehensive Teacher's Manual and Training video ensure that this simple, yet effective programme (which incorporates repeated readings) can be easily implemented (often by Teachers Aides).
Assessment sheets feature the titles of the books presented for teachers to take Running Records to monitor progress. Cloze (Text Completion), Text Sequencing, Word Search, Writing and Dice Game sheets provide meaningful text-related activities.
The Rainbow Reading Programme (and recently New Heights) has been developed, thoroughly researched and trialled by qualified reading specialists in New Zealand. It has been enthusiastically accepted by teachers and students worldwide through distributors in N.Z, Australia, U.K, Sweden, Hong Kong, Singapore and South Africa.
The Rainbow Reading Programme is non-threatening, supportive, interesting, enjoyable, economical, easy to implement and effective at improving reading skills. On average, students consistently make gains of 12 months in reading level every 10 weeks of half hour practice, 5 times a week.
Research is paramount to Rainbow Reading, all of our programmes are research-based and field-tested.
In research carried out in an Auckland school students made on average, gains of two years progress in reading level over a 16 week period. Even more favourable results were achieved by the students who are English Language Learners.
Rainbow Reading is designed to complement existing home, classroom and special reading programmes.
The Rainbow Reading Story – Meryl-Lynn Pluck
Meryl-Lynn Pluck (the founder of Rainbow Reading) was a Resource Teacher of Reading in her home base of Nelson when she became a reluctant publisher – as she loved teaching and knew very little about publishing.
After training under Marie Clay, she had learned a lot about Reading Recovery and the older students who slipped behind their peers in reading. Meryl-Lynn trialled and refined the pedagogy for Rainbow Reading over her many years of teaching. "I witnessed just how effective it was at lifting the reading skills of struggling readers, with average gains of 12 months in reading level after just 10 weeks of 30 minutes daily practice with a Teacher Aide. So I really wanted to make it available for students nationwide. Naively I thought I could publish part time and continue teaching!"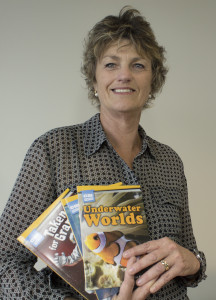 But establishing Rainbow Reading was a major undertaking which is now celebrating its 30 year anniversary with a local market of 87 percent of all New Zealand schools who have used or are using her programmes.
"We started with just six books and audiotapes at each of three levels, a Training video and a Teacher's Manual. As those sold we introduced more titles at those levels and further levels. Today we have 450 titles."
The Rainbow Reading range of books is now also sold via distributors in Australia, UK, Singapore, Hong Kong, South Africa and the US. The latest series is called New Heights.
Rainbow Reading contracts content to over 60 authors, including well known names like Diana Noonan, Jillian Sullivan and David Hill. They also commission free lance illustrators and photographers to illustrate their titles. Sound content is professionally voiced, and technology has moved from audio tape, to CD and now MP3 and "magic" pen, over the years.
Originally printed in Nelson, production was later moved to Christchurch printers… until the earthquakes. Now printing, where coded books are required, is done in China.
Meryl-Lynn passed away in 2019 in her family home in Nelson. Despite having low energy levels from having cancer and chemotherapy treatment, she continued to produce resources up until her final weeks. Now, her family continues her legacy.
Meryl-Lynn's husband, David and children, Daniel and Michaela now run Rainbow Reading with along support staff and reps around the world.